Please find our Child Safe Policy here:
Child Safe Policy Feb 2015_distributed July 2015
Managing Director and Creative Producer, Bec Pannell
Bec has recently moved back into the arts after two decades in the tertiary education environment. During this period she was the live-in Principal of a residential university college (living with over 200 students), a lecturer in Cultural Studies, Australian Studies and Tourism at Flinders University; an Associate Dean at Flinders University Hall (residential) and a lecturer/tutor in the Centre for Staff Development at Flinders University where she worked with new tutors and lecturers to help them develop their teaching skills. Throughout this period Bec contributed many conference papers, published in academic journals, edited academic work and was a long time representative on the Flinders University OHS Committee. Her areas of academic research included Australian film and theatre, theories of the body, postcolonialism, and religion in Australian performing arts. Her PhD remains incomplete because she threw herself into life in college – working with young and emerging adults.
During her career in the arts, Bec was privileged to work alongside directors such as Kim Durban and Nigel Jamieson, and to work as an actor, dramaturg and assistant director in Melbourne and Adelaide. During her time at CPA she was fortunate enough to work with international voice teachers Frankie Armstrong and Jo Estill and the wonderful Jacques Le Coq. Most recently she has been working with the first year acting students at AC Arts on Voice and Body. She is the former General Manager of Urban Myth Theatre Company, and it was because of the relationships she formed there with the children and parents that she decided to continue the work of Urban Myth through SAYarts.
"I feel so privileged to work with these students – it is a very rewarding experience knowing that for some of these kids, these classes are the best thing that happens to them all week. What we do here is worthwhile. The arts produce creative, empathetic, thinking, well-rounded human beings. SAYarts contributes to a positive and sustainable culture of problem solving and innovation." Bec Pannell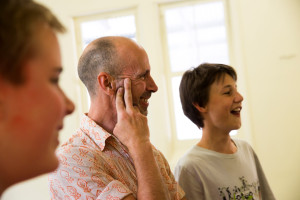 Artistic Director Sean Riley
"At SAYarts we encourage vigorous exploration, risk-taking and playful curiosity.  Unlocking and unpacking the theatre-making process through a series of dynamic workshops, SAYarts is committed to nurturing and empowering each and every one of our young to young-at-heart participants.  SAYarts isn't just a theatre company…it's a community."
Sean Riley, Artistic Director
Sean Riley is one South Australia's leading playwrights and over the past years has written plays for a number of South Australian companies including The Sad Ballad of Penny Dreadful, presented by Windmill Performing Arts in January 2006, My Sister Violet for Urban Myth Theatre of Youth in 2005, The Last Acre (2003) and The Time of Ashes (2001). Also A Mirror and The Visitors for Urban Myth, are his first two plays in a trilogy about dementia and alzheimers. His play The Angel & the Red Priest was performed as part of the 2008 Adelaide Festival of Arts.  Sean's latest play, Warren, began life as an Urban Myth commission and ended as the first production for SAYarts in September 2014. In 2005, Oddbodies Theatre Company – of which he is founding member and co-artistic director – presented Significant Others – short-listed for the Patrick White Playwright Award.
Sean's play Beautiful Words was premiered by Oddbodies Theatre Company in 2006, winning the Adelaide Theatre Guide's Curtain Call Award for Best Dramatic Production of the 2005/06 season and the Adelaide Theatre Critic's Award for Best New Play, and received a 2007 AWGIE Nomination for Best Play for Young Audiences, and also won the Jill Blewett Playwrights Award in 2004 and was short-listed for the 2004 Patrick White Award. It was published by Currency Press in May 2008 and forms part of the school curriculum.
His feature length screenplay, The Wife of Bedlam, was awarded Hopscotch Films inaugural Unproduced Screenplay Award. As part of this prize, Sean received a two week mentorship with triple Pulitzer Prize-winning dramatist Edward Albee.
As well as writing and directing plays, Sean has spent the last 20 years as a youth theatre tutor, workshop facilitator and artist in residence – Sean loves working with kids, and he is good at it. Sean's expertise is in storytelling, devising, and improvisation. Along with the MD and Tutors, Sean sets and inspires the vision for SAYarts.
Tutor and regional arts project advisor, Claire Glenn
Claire Glenn is an actor, producer and festival director and works across a diverse variety of creative projects. After completing her training at the University of Otago, New Zealand, Claire has worked as a performer and producer throughout Australia, the UK, Ireland and New Zealand for companies including Three to a Room, White Whale Theatre, On Invisible Wings and Sisters Grimm. Since 2012, Claire has been producer and an ensemble member for five.point.one and has performed in Muff by Van Badham (nomination: Best Female Performance, ATG Awards 2013) and Notoriously Yours by Van Badham (Winner: inSpace Award, Behind the Scenes Award, Critics' Circle Award, Adelaide Fringe 2014) as well as producing The Lake by Ben Brooker and The Reading Sessions 2012 & 2013. For the past five years, Claire has worked extensively in a youth arts context, producing and delivering major arts projects in regional and remote areas of Australia. She is committed to collaborating with artists and young people to create work that speaks to and for the communities in which she is working.  From 2008-2014, Claire was the Artistic Director of the Fairfax Festival, a performance festival for young people living in regional and remote areas of Australia who have little or no access to arts activities.   In 2015, Claire will be working with Riverland Youth Theatre and is delighted to continue in the tradition of youth arts in South Australia working with South Australian Youth Arts.
Tutor and Theatre in Education specialist, Nicole Allen
Nikki Allen is an experienced dance and acting teacher specialising in school and community development workshops. As an actor, Nikki has worked broadly across Adelaide arts companies. For 10 years Nikki ran New Met Dance company with her husband Michael. Nikki is sought-after for her in-school workshop developments, group devised theatre ,and CALD. Nikki's most recent projects include Chaos and Order for Urban Myth@MtBarker, the Autism transition project with Birdwood High School and a modern theatrecraft intensive for Tumby Bay School. Nikki is central to the development of SAYarts' in-school and Professional Development workshops for teachers.
CHILD SAFETY/CREDENTIALS
SAYarts is committed to the safety and wellbeing of all of our students and members. As such, we take Child Safety and First Aid seriously. We are also keenly aware of the needs and issues that surface during the development of children and in particular, emerging adults.
Rebecca Pannell has completed training in Child Safe Environments. She also has over 11 years experience as a live-in Dean/Principal on University campuses in a pastoral, academic and operational role. She was central to the development of pastoral care and wellbeing programs and training across the residential community sector in Australia.
Our core tutors are all working creative professionals with accredited training through a national theatre school such as AC Arts. They have decades of experience and all are police checked. Sean Riley, Nicole Allen, Simone Avramidis and Michael Allen are all qualified to work in DECS environments and have a depth of experience and wisdom in these areas. Claire Glenn has been the director of a major children's regional festival for many years and brings event management and child safety expertise with her. Cameron James is an early career actor who brings fresh skills and techniques straight from AC Arts.
All of our child-aged workshops have two tutors: a full tutor and an assistant tutor who is usually recruited from the Senior Ensemble to train as a tutor. This helps protect the children and the staff. All of our Assistant Tutors are police checked. All tutors undergo a workshop at the beginning of each year that outlines their responsibilities before, during and after workshops.
Managing Director/ Creative Producer Rebecca Pannell has the following accreditations:
Fire Safety and Chief Warden
Senior First Aid
WHS for supervisors
Youth Mental Health First Aid
Child Safe Environments
Asthma First Aid
RSA
Frontline Management (Flinders / TAFE)
Bachelor of Arts Hons (Adelaide)
Diploma of Performance (Adelaide College of the Arts/CPA)
To see our Child Safety Policy you will be able to click on a link – TBA