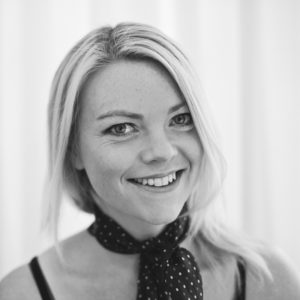 We are thrilled to announce the appointment of Claire Glenn as SAYarts' next Artistic Director as of 25th October 2019.
Claire brings a fresh professional perspective and intense passion to youth theatre, as well as an enviable award-winning reputation. Claire is in high demand as a youth theatre facilitator (including internationally) so we are delighted to have nabbed her for our very own.
Claire has been the facilitator of our Fringe ensemble since their inception and is a founding member of SAYarts. She believes that "theatre for young people is for young people's voices". We agree!
Claire understands the importance of the space we create for our young people here at SAYarts, where they can take risks, but safely, where their voices can be heard loud and clear, where they can share an opinion and be genuinely listened to: "I learnt so much from my time as a young person in a theatre group for young people and everything I learnt there has stayed with me today.  I definitely hadn't honed my craft and there's always more to learn but it gave me everything I needed at that time – people like me, friends, a creative outlet, discipline, a strong work ethic and I had the time of my life.  If I can create the same kind of safe, creative place for kids for the rest of my life I will be happy." Claire's approach is inclusive and welcoming. She is looking forward to creating new projects with SAYarts' young members, including building relationships with other youth theatre companies across Australia and overseas.
With a long and impressive list of youth theatre projects with nearly every company in the State including Carclew, Riverland Youth Theatre, Urban Myth Theatre for Young People, Act Now, D'Faces of Youth Arts, Expressway Arts, and Prospect Youth Theatre Claire is the perfect person to lead SAYarts. Claire is also an experienced Artistic Director – from 2008-2014, she was the Artistic Director of the Fairfax Festival, a Youth Arts Festival for Young People based in regional and remote areas of Victoria and New South Wales.
Claire has earnt the respect of the arts community in Adelaide, and is often asked to lead workshops and contribute to conferences.  She will address the state's Drama Teacher's Conference later this year as a keynote speaker and run the December summer school for State Theatre Company. Evidence of the respect the industry has for her work can be seen in her long string of awards and nominations: Claire was a Finalist and/or winner of the prestigious Arts South Australia Ruby Award (2015, 2017, 2019), TropJr (2015) and a Curtain Call Award Winner (2016) for her work in the Theatre for Young People Sector.
We thank outgoing Artistic Director Sean Riley for all of his wonderful work with SAYarts and look forward to seeing what new adventures he will embark upon.
Sean's classes have been allocated to some exciting creatives from Adelaide's arts community. Popular playwright and On The Fringe favourite Alan Grace will take over Sean's writing classes, whilst his other classes will be facilitated by current SAYarts staff, as well as some delightful new ones. Bec Pannell is available for questions and to clarify any information about classes and projects going forward. Bec: 0400 202 399, bec.pannell@sayarts.com.au
SAYarts T-SHIRTS
BLACK WITH COLOURED LOGO & "SAY WHAT" IN YELLOW ON THE BACK
$25 KIDS SIZES / $30 ADULT SIZES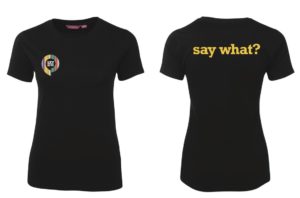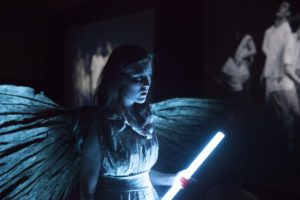 Eve Carlin as the Angel of Death, Grave Child, Dream Big Children's Festival 2017, photo: Sam Konicek
Who are we? Established in September 2014 after Urban Myth closed their classes, SAYarts is a collective of former UMTOY tutors, directors, writers and arts professionals who seek to continue the strong tradition of theatre-making in Adelaide's youth community and beyond. Managing Director & Creative Producer Bec Pannell registered the company with the belief that theatre and creative endeavour are crucial in the lives of young people. Joining her on the initial creative journey were award winning playwright, director and specialist youth tutor Sean Riley (former Artistic Director); theatre-maker and actor Claire Glenn (Current Artistic Director); extraordinary dance teacher and theatre-maker Nicole Allen; and various guest tutors such as Tamara Lee.   We continue to employ Assistant Tutors for all of our classes that cater to children. Our staff are all police checked and we adhere to child safety guidelines. Our goal is to have as much fun as we can whilst helping our students to learn their craft.
Our first production was Sean Riley's Warren in September 2014. Thanks to a Pozible campaign and the amazing support of parents and the Adelaide theatre community we saved this former Urban Myth production and 46 kids ended up on stage at the Goodwood Institute. It was a moment of absolute joy, and we know that there will be many more such moments to come.
Our mission
Why theatre classes?
According to the Collaborative for Academic, Social, and Emotional Learning, there are 5 core areas of competency in social/emotional learning; self-awareness; self management; social awareness; relationship skills, and responsible decision-making. Theatre offers the ideal playground for children and youth to practice and strengthen these competencies. (Lynn P Johnson)
We work with professional creative artists and actors to nurture, inspire and train young people to develop theatre craft that enriches them and changes their lives for the better.
Our values:
Artistic Integrity
Professionalism
Fun
Friendship
Excellence
Respect
You need only speak to our parents and our students to understand the importance of what we do for our students. Our aim is to
Give a child a sense of belonging that they haven't found anywhere else
Teach them how to interact with others, even when they disagree
Build their confidence through practice and hard work
Help them to make friends
Give them a sense of achievement
Teach them about disappointment (they didn't get the lead role…)
Help them to feel "normal" when the rest of the time they feel that they don't 'fit in'
Give them a creative outlet for all of that energy that they might usually get into trouble for – set their imaginations on fire
Accept and celebrate their difference and cultural diversity
Celebrate their humour and their passion
Make them happy
Give them skills for life
Many drama schools focus on the performance or job outcome. At SAYarts we focus on the development of the whole person, in particular:
Building resilience and confidence through making and surviving mistakes and through "having a go"
Developing emotional literacy (EQ) – about themselves and others
Teaching empathy and theory of mind – putting yourself in someone else's shoes
Theatre craft and stage craft – listening, moving, reacting, thinking, contributing, creating, giving, understanding
Ensemble work (teamwork) – negotiating the spotlight, helping others shine, stepping up when needed, working in sync with others
Public speaking and leadership skills – presence, confidence, timing, articulation
Social skills and interactions – accepting feedback and direction, praising others, working with people who think and act differently
Collaborative Problem solving – in our classes there is no wrong answer, just a better one or a better way
Performance as a result of theatre-making and creativity
THE PROGRAM
Our program is set in consultation with our students and tutors, teaching to the strengths, expertise and interests of our tutors. As students move through age groups they move through increments of craft and skill, improving and learning new levels of professionalism at each stage.
What begins as "games" in our Little Tackers classes, grows to be "exercises" the next levels up, until we reach "tools" and 'stagecraft' for our senior student ensembles such as On The Fringe and  Troupe Mythos.
Each set of classes aims to develop particular aspects of theatre craft – character development, understanding of the history of theatre, improvisation, voice, movement for actors, writing for the stage, bringing issues to life, deconstructing ideas, exploring subtext, wrestling with language, physical / hand eye coordination. All of these are transferable skills and many of our former students talk about the ways in which they use them in everyday lives such as in their careers as osteopaths, lawyers, teachers, directors and business owners.
Please contact Bec Pannell  0400 202 399
email bec.pannell@sayarts.com.au for information